Weekend Winter Storm: It's Coming, But Where Will It Hit?
February 21, 2019 12:03PM CST
Talk of a no-nonsense winter storm rolling through the area this weekend has been happening for a couple of days already, but the National Weather Service (NWS) remains uncertain where the heaviest snow will fall.
In an update issued Thursday morning, the NWS Twin Cities said it remains "highly confident a powerful winter storm will bring a narrow band of heavy snow and strong wind late Saturday into Sunday, but we still can't say where exactly the storm track will be."
Right now, computer models are favoring a storm track that would bring the heaviest snow to southeast Minnesota.
The winter storm will actually come in two parts, with the first part arriving Friday with 2-4 inches of snow possible in far western Minnesota, possibly extending into central parts of the state.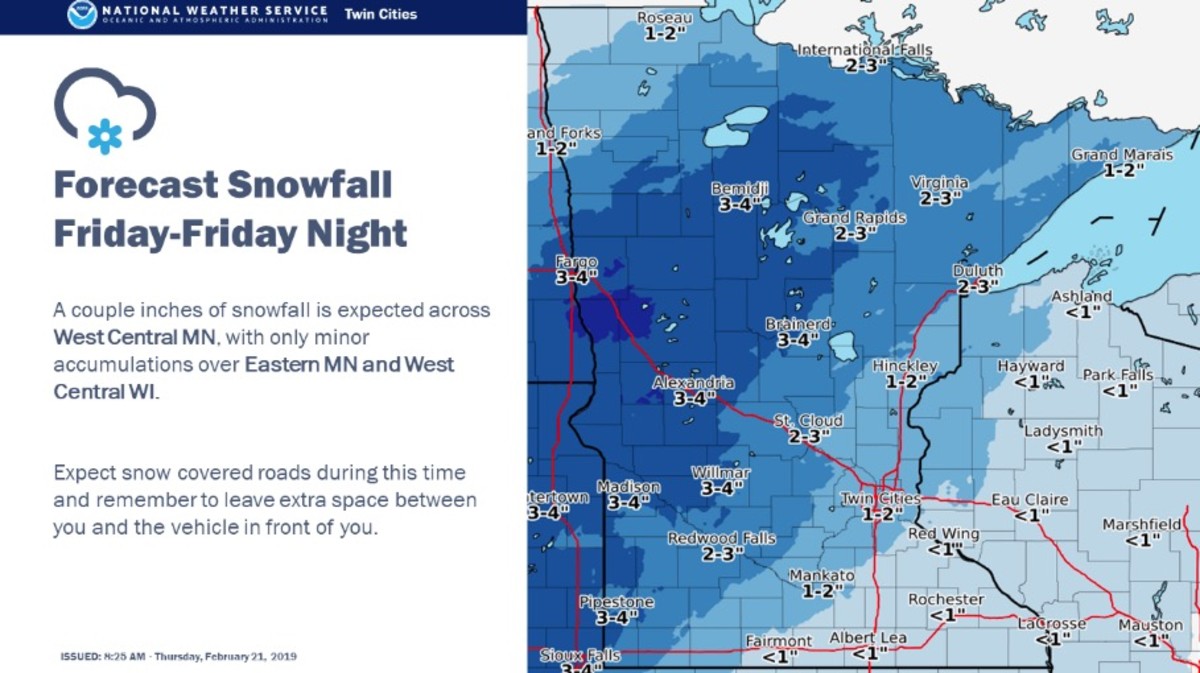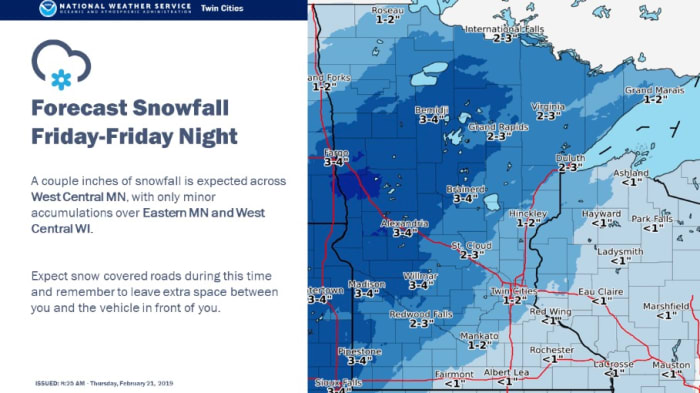 Narrow band of very heavy snow.
Snowfall rates close to 2 inches per hour possible.
Fast-moving storm so snow totals less than a foot.
Significant blowing and drifting with likely white/blizzard conditions.
"We are not confident in the track. Since this is a narrow snow band, a slight shift one way or another will make a major difference in the snowfall totals," the NWS Twin Cities notes.
The Weather Channel has a snowfall map suggesting anywhere from 3-8 inches possible in the Twin Cities with a narrow band of 8-12 inches possible in the Rochester area. AccuWeather has a similar snowfall map.
Even if the heavy snow evades most of Minnesota, strong winds associated with the storm system could produce a lot of blowing snow in areas hit hard by Wednesday's winter storm, including the Twin Cities metro area.
Source:  bringmethenews.com
---